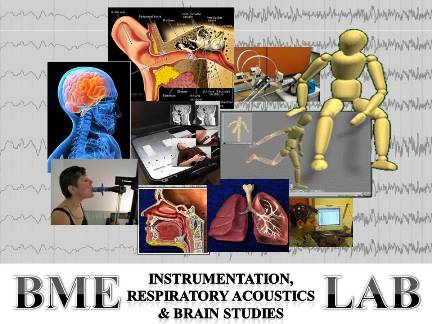 Overview
Biomedical Instrumentation & Signal Analysis Lab is located at Room E3-518, Engineering Building, Fort Garry Campus. As Biomedical research is interdisciplinary in nature, our research involves close collaboration with other departments and faculties in the University of Manitoba and the associated hospitals. Our clinical trials and studies on sleep apnea runs at Misrecordia Hospital, on balance and spinal cord injury at Rehab Hospital of Health Science Center, on neurological disorders at Riverview Health Center, which hosts our NeuroDiagnostic Lab as well as our TMS Lab. However, most of the technology development, validation and initial testings and research meetings are done at the lab in room E3-518 Eng. Bldg.

Our research heavily involves the use of signal processing techniques for the interpretation of physiological measurements and modeling of physiological systems. Our research area includes:
To learn more about any of the above research topics you may click on the link and also take a look at our recent publications from the left menu. Other than graduate level projects, we usually have some short-term projects for undergraduate summer projects as well. Also there have been a few high school students who have been working voluntarily in our lab on some parts of our projects in summer time. If you're an Electrical/Computer or Mechanical Engineering 2nd year or higher undergraduate student and are interested to learn and contribute to our projects you may contact Dr. Zahra Moussavi. For any question or comment, or if you like to pay a visit to our lab, please drop us an email.
| | | |
| --- | --- | --- |
| This is a device built for neuro-rehabilitation of people with spinal cord injury. The student in picture is testing the device. Read more... | We measure breath (and snore) sounds of people during sleep for sleep apnea detection. Read more... | We measure the brain's temporal and spatial perception in people at different age groups as well as those with dementia. Read more... |